A business needs a website, and it is a basic necessity in today's world. Instead of hiring a reliable website development company, people prefer choosing the free web page builder on the internet. Yes, there are some of the most-reputed builder sites, but why should you avoid them?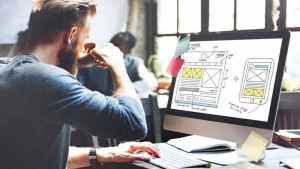 What is a free web page builder platform?
These platforms allow you to create a website or blog with drag and drop features. You can alter your site's look, add images, choose from a pre-set number of themes and formats, and create a site for your business in a matter of minutes.
Is the free web page builder really free?
Yes, you are not paying for the website in monetary value. However, you are paying it in terms of advertisements. The website builder company hosts adverts on your page. What is wrong with having a couple of adverts? Those adverts will not block your content, and when it is free, why should you complain? The first problem with adverts is the speed of your page.
Google ranks pages based on several factors, and speed is one of them. Every time your visitor opens your page, the content, media elements, and adverts load, which means a slower page. Adverts do not take minutes to load, but do you know that half of your visitors might leave if your page takes more than three seconds.
The worst part is that your business is not making money out of those adverts. However, you are losing customers and ranking ability. Is the free web page builder worth these disadvantages?
Credibility of your site built with free web page builder
The free web page builder you are using might be credible and reliable, but it reduces your brand's credibility among customers. If you are using a free site, customers do not consider you a serious retailer or reseller. It could be worse if you are into the B2B business.
It is not possible to get a good domain name while using a free builder. A poor URL with numbers and unwanted phrases would make your site less reliable. Moreover, Google crawlers might not quickly locate your site, causing your ranking to plummet out of the first page. Will you do business with a site that is on the second or third page of Google? Then why will your customers prefer you?
The bandwidth of free web pages
The main reason to avoid these free builders is the bandwidth limitation. In layman's term, bandwidth refers to the number of users that your page can handle. If your bandwidth is 5GB per month, your users can load 5GB of data per month from your site. Beyond that, the site would stop responding. 5GB might sound too much for a starter like you. But, if your site receives hundreds of visitors per week, 5GB is way too little.
If your page does not respond adequately or takes too long for each click, the customers would bounce, and most would not return to your site. Unfortunately, most of your competitors would be using customized pages with better bandwidth. Once your visitors turn into your competitors' loyal customers, switching them back is very expensive and almost impossible.
How about social media business page?
All these disadvantages would not be a problem with the business page of Facebook or Instagram. However, credibility becomes a major factor. Social media business pages are essential for improving better brand visibility. But, if your brand exists only on social media, it could be a big turn off for many customers. Moreover, social media pages cannot give adequate information or services to your customer.
Security factor
The free builder platform might have high-end security features, but the customers would have a hard time believing that. You cannot expect customers to use their credit card or bank details on a site that looks like a free site. The next factor is the privacy policy. Your site has to adhere to the privacy policy of the page builder platform. Thus, you cannot assure the privacy of your customer data.
One-in-a-thousand look
Even the best page builder platform will have ten to fifteen themes with varying color formats and pictures. Thus, the end-product (your website), even with customized images and best content, would exactly the same as thousands of other pages (businesses that use the same builder platform). Uniqueness is an essential factor for your business. All it takes is a couple of clicks for your customers to move from your business to your competitor page, and a very standard look of your webpage would be a significant turn-off.
Some website builders offer themes and plug-ins for a charge to create a customized look. However, the security of those plug-ins and your website's loading speed would be significant criteria.
Clearing the myth of costly website
It would be expensive to build a website like Amazon. A simple site with customized features and a cart system can start as low as $10 per month. You can get a personalized domain name, adequate bandwidth, and zero ads. If you wish to hire a webpage developer, you can start with a budget as low as $200 and a maintenance fee of $50 per month.
A domain name can be around $15 per annum, which is vital for improving your credibility. For instance, if your business name is A Plus plumbing, you need a site URL as aplusplumbing.
Remember that the free webpage platform is not the culprit here. It is far better than choosing the cheapest website developing company with little to zero expertise in the field. You can prefer to upgrade your free website to a premium account with a customized domain, zero-ads, and other features. You can build a reliable website out of Wix, WordPress, Weebly, or other platforms. However, a free page would be the downfall of your business.